Abdul Manan, 2021067201 (2019) Turnitin : The Ritual of First Bathing Infant in Aceh, Indonesia. Journal of Contemporary Islam and Muslim Societies.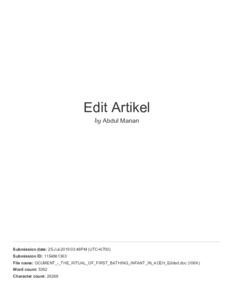 Preview
Text (Turnitin : The Ritual of First Bathing Infant in Aceh, Indonesia)




FIRST BATHING RITUAL.pdf

- Published Version
Available under License Creative Commons Attribution.
Download (4MB) | Preview
Abstract
Childbirth is considered sacred by Acehnese peoples and as such, a newly born baby was introduced to the surrounding world in certain rituals. This is regarded as a re-enactment of the Prophet Muhammad's actions in the seventh century and a continuation of the village norms to preserve the relations of communications and exchanges across generations. The rituals are conducted to honour this process, before and after it, as well as helping mother to heal the physical and mental condition after labouring. This study aimed to describe the ritual of infant bathing practiced by Acehnese people living in the village of Blangporoh, South Aceh. The qualitative approach was applied as the interviews and field observations were due to collect the data. The result indicated that this community still preserved the ritual of infant bathing as a symbol of welcoming the baby as a way to integrate the baby within society. There was also tradition of the animal sacrifice, Akikah, done along the ritual of infant bathing. The author emphasized that both rituals were important within the society as a way to introducing the baby to socio-cultural values since the early childhood.
Actions (login required)