Khaira Fitri, 170203109 (2021) An Analysis of Improving Reading Comprehension by Using Strip Story at First Year in Insan Qurani. Skripsi thesis, UPT. Perpustakaan.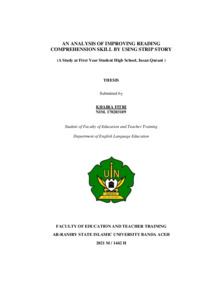 Preview
Text (An Analysis of Improving Reading Comprehension by Using Strip Story at first year in Insan Qurani)




Khaira Fitri, 170203109, FTK, PBI, 081246342576.pdf

- Published Version
Available under License Creative Commons Attribution.
Download (1MB) | Preview
Abstract
This research was based on a preliminary study conducted in MTs Insan Qurani, in which the author discovered that 54.3 percent of first graders struggled to comprehend the text. In the pre-test, their reading comprehension scores and the class mean were both less than the passing grade of 75, which was 6.03. As a solution to overcome the students' reading comprehension difficulties. Because it aimed to improve the current situation, this study used the design of class action research. The researcher served as the teacher, while an English teacher at MTs Insan Qurani served as the observer. The research was divided into two cycles, each with four steps: planning, implementation, observation, and reflection. The study included 30 first-graders from MTs Insan Qurani in the academic year 2020/2021 as participants. Reading comprehension test, observation notes, and a questioner sheet were used to collect data. According to the findings, the Strip Story strategy can help students improve their reading comprehension skills. The success criteria that can be met demonstrate this. Cycles I and II of this study were conducted separately. The research had failed to meet the success criteria during cycle one. The students received an average of 73.33 points. The research had met the criteria for success in cycle II, on the other hand. The students received an average of 85.83 points. It indicates that the researcher was successful in carrying out this study, and thus the study was terminated.
Actions (login required)