Abdul Manan, 2021067201 and Rahmad Syah Putra, - (2019) Turnitin : Hoax, "Image-Building", and Democracy in Aceh. European Union Digital Library.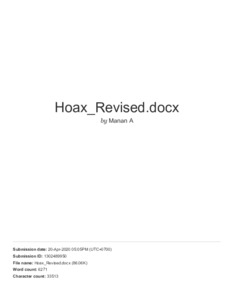 Preview
Text (Turnitin Hoax,"Image-Building", and Democracy in Aceh)




Turnitin Hoax,"Image-Building", and Democracy in Aceh.pdf

- Published Version
Available under License Creative Commons Attribution.
Download (3MB) | Preview
Abstract
Hoax is universally defined as fake information, deceived news or, twisted or "made up" facts used for both "gag" and serious matters. The purpose of this study is to examine the "hoax" and its implications toward democracy and development in Aceh. This research uses a socio-phenomenological approach by applying three different techniques of data collection: observation, interviews, and documents. This study revealed that hoax is one form of information created by few individuals to purposively influence their political opponents which then may cause a disturbance, panic and massive fear. Hoax information has been well and purposively designed and made up before it was spread, so as if the information is seemingly true. Hence, it has caused restlessness among the Acehneses and eventually resulted in a panic attack in Democratic Party 2019. The rumor and issue have been a binding part of the Acehnese society, disturbing the democracy and disunity in the society. The issue related to religion is viewed as an effective and advantageous factor to promote conflicts.
Actions (login required)