Saifullah Idris, 2006047203 ISLAM DAN DEMOKRASI: Respon Umat Islam Indonesia terhadap Demokrasi. -. pp. 1-26. ISSN -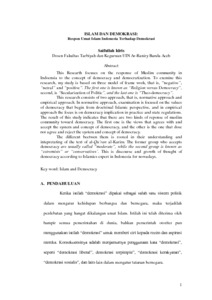 Preview
Text (Membahas tentang Islam dan Demokrasi)




Islam dan Demokrasi-Respon Umat Islam Indonesia Terhadap Demokrasi.pdf

- Published Version
Available under License Creative Commons Attribution.
Download (357kB) | Preview
Abstract
This Researth focus es on the response of Muslim community in Indoensia to the concept of democracy and democratization. To exemine this research, my study is based on three model of frame work, that is, "negative", "netral" and"positive". The first one is nown as "Religion versus Democracy", second, is "Secularization of Politic ", and the last one is "Theo-democracy".
This research consists of two approach, that is, normative approach and empirical approach. In normative approach, examination is focused on the values of democracy that begin from droctrinal Islamic perspective, and in empirical Approach the focus is on democracy implication in practice and state regulations. The result of this study indicates that there are two kinds of reponse of muslim community toward democracy. The first one is the views that agrees with and accept the system and concept of democracy, and the other is the one that dose not agree and reject the system and concept of democracy.
The different beetwen them is rooted in their understanding and intepretating of the text of al-Qu'ran al-Karim. The former group who accepts democracy are usually called "moderate", while the second group is known as "extremists" or "conservatives'. This is discourse and growth of thought of democracy according toIslamics expert in Indonesia for now a days
.
Actions (login required)