Muhammad Nasir, 2013016602 Educational Values of Dream and Reality of Psychoanalysis in "Sang Pemimpi" (The Dreamer), a Novel by Andrea Hirata.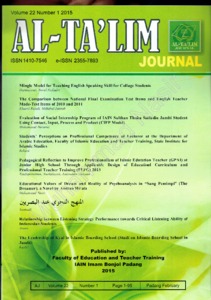 Preview
Text




Al Ta'lim - Pak Nasir - ok.pdf

- Published Version
Available under License Creative Commons Attribution.
Download (22MB) | Preview
Abstract
This article tries to look at Psychoanalysis study of a novel concerning on a dream and reality in Sang Pemimpi (The Dreamer) by Andrea Hirata. In general, his work portrays mostly about the condition and situational life of Belitung community. Here, Andrea shows his ability as the presentative of Belitung's young generation succeeded in fulfilling his dream by explaining the real life of people in his home town and villages having bitter experience values in rich environment. Besides, he tried to describe the difficult life faced villagers. The dream in this novel is not only his, but also all dreams of Belitung community as the manifestation of their life condition comparing to other areas or provinces in Indonesia. Further, through this novel (work), it is implied an important message directed to both Indonesian authority and Belitung mayor in order to bbe able to increase the level of education of grass root community, especially for those who live in a very isolated area, such as Belitung. This is the real dream of all participants in the island which remind unsolved.
Actions (login required)