Rizka Maulida, 231222713 (2017) English Elementary School Textbooks Analysis: Addressing Gender Bias Issues. Skripsi thesis, UIN Ar-Raniry Banda Aceh.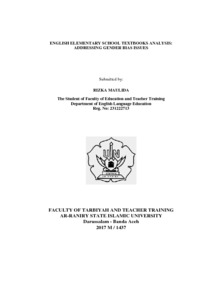 Preview
Text (Membahas tentang Textbook Analysis)




ENGLISH ELEMENTARY SCHOOL TEXTBOOKS ANALYSIS, ADDRESSING GENDER BIAS ISSUES.pdf

- Published Version
Available under License Creative Commons Attribution.
Download (559kB) | Preview
Abstract
Textbook is one of the materials in teaching learning process which is regularly used by both teachers and students at school. Textbook should be free of negative contents or issues in it such as gender bias. Thus, this research was conducted to measure to what extend gender bias appeared in the textbooks used by most of Islamic state elementary school in Banda Aceh. This research aims to answer two questions, they are: 1.To what extend does gender bias exist in elementary EFL textbooks of Indonesia? 2. What types of gender bias are found in the Indonesian elementary EFL textbooks? There are three textbooks becoming the research object, they are Grow with English 4, 5, and 6. The researcher chose the textbooks after doing a mini survey in all of the Islamic state elementary schools in Banda Aceh. To answer the research questions, content analysis method was applied to this research. Every page of the textbooks were analyzed to discover five aspects. They are visibility, firstness, feminine/masculine generic construction, activity, and occupation. After doing the analysis, it can be concluded that every textbook contains different level of gender bias. Male were dominant in three categories which were firstness, activity, and occupation. While female only have a dominant number in the visibility category. Overall, the author of the textbook has tried to promote gender equity in the textbook. Unfortunately, male were still dominant in the textbooks. All of the textbooks in this research still contain gender bias issues in it. Thus, it is expected to be revised in order to remove all of the gender bias issues.
Actions (login required)