Putri Yunisari, 231324324 (2017) Westerns' Lifestyle Culture Shock Experienced by Graduate Students of English Language Education. Skripsi thesis, UIN Ar-Raniry Banda Aceh.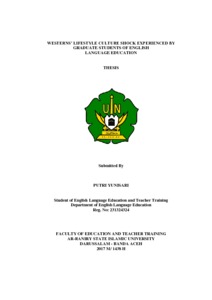 Preview
Text (Membahas Tentang Pengalaman Shock Budaya Hidup Barat)




SKRIPSI PUTRI YUNISARI gabung.pdf

- Published Version
Available under License Creative Commons Attribution.
Download (1MB) | Preview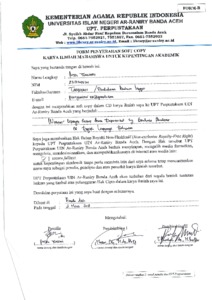 Preview
Text




Form B dan Form D.pdf


Download (1MB) | Preview
Abstract
As culture is the aspect that differentiates style of people"s life, culture shock is the social phenomenon that experienced by people in a different lifestyle, which caused of several factors. In addition, this kind of experiences, require a good adaptation strategy so that can give a good impact in people"s life. Therefore, this study analyzed western"s lifestyle culture shock experienced by foreign students. The purposes of this study were to know how Western"s lifestyle in the college environment cause culture shock experience to the graduate students of English Language Education and to know what are the impacts of culture shock toward lifestyle of English language education graduate students. The research design in this study was qualitative. Researcher used purposive sampling to choose the sample of the research. In collecting the data, researcher used interview through (Email, Whats-App, Face to face). The informants were graduate students of English department who continued their study in westerns" countries. The result of this research shows that the differentiation of cultural elements such as educational systems and students" behavior and activities in college environment were the reasons behind culture shock experience. In addition, generally, the culture shock experiences brought positive effects for informants and their social life. The informants found some learning and feel upgraded in term of confidence, independence and brave, to the point, open-minded, outspoken, disciplinary, managerial and also they became able to maintain and sort things that important in their life.
Actions (login required)