Dea Utami Permatasari, 231324252 (2018) The Effectiveness of Movie Subtitle to Improve Reading Comprehension. Skripsi thesis, UIN Ar-Raniry Banda Aceh.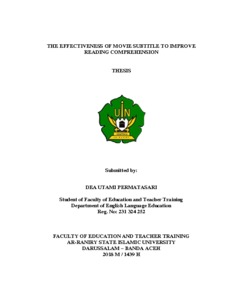 Preview
Text (Mengenai tentang Reading, Metode)




Dea Utami Permatasari.pdf

- Published Version
Available under License Creative Commons Attribution.
Download (1MB) | Preview

Preview
Text




FORM B dan D.pdf


Download (516kB) | Preview
Abstract
This study examines the effectiveness of teaching by using movie subtitle in reading comprehension. The aim of this study is to investigate whether movie subtitle can improve students' reading comprehension. In the collecting data teaching experiment, the researcher used some techniques such as; test and questionnaire. This technique is effective in teaching reading using movie subtitle. This can be proved that students' result was sharply improved (X ̅ in pre-test was 43.40% while X ̅ in post-test was 72.19%). It means the increase from pre-test and post-test was 60.11%. In addition, based on the analysis of questionnaire, most of the students gave positive responses about students' reflection on learning by using this technique in which 69.2% of them agreed that movie subtitle technique helps them in comprehending the reading and also get a new knowledge from it. Therefore, it can be concluded that movie subtitle gave strong effect on students' reading score and positive influence for them.
Actions (login required)