Meri Miranda, 231324163 (2018) The Implementation of Impromptu Speech to Improvestudents' Speaking Skill (An Experimental Study at the First Year Students of MAS Al-Manar Aceh Besar). Skripsi thesis, UIN Ar-Raniry Banda Aceh.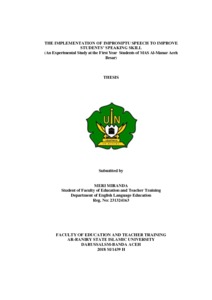 Preview
Text (Mengenai tentang Speaking)




MERI MIRANDA.pdf

- Published Version
Available under License Creative Commons Attribution.
Download (1MB) | Preview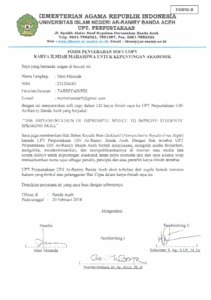 Preview
Text




From B dan From D.pdf


Download (468kB) | Preview
Abstract
Speaking is one of important skills in communication. There are several difficulties that are faced by students in learning speaking such as lack of vocabulary, grammatical difficulty, lack of confident, accent, pronunciation, and so forth. In teaching speaking, some instructional media can be used by a teacher such as video or audio. Understanding the difficulties that faced by students may help the teacher to solve the problem in teaching learning speaking and improve students' speaking skill. This study was intended to find out whether impromptu speech method improve students' speaking skill or not. To achieve the aim of this study, the writer conducted the research at MAS Al Manar Boarding School. For the sample, the writer choose X-B and X-C in academic year 2017-2018. To collect the data, the writer used teaching experiment, pre-test and post-test. Experimental teaching was done in five meetings, by giving one meeting for pre-test, three meetings for treatment, and one meeting for post-test. The result of this research showed that Impromptu Speech method improved students speaking skill. It was proved based on the data from the mean scores wich show that pre-test 61.6 and post-test was 69.25. Then, the calculation from ttest also showed the significant level of experimental class was 1.60 and control class was 1.22. Therefore, the experimental class Tscore > Ttable and the control class Tscore < Ttable. Furthermore, based on students' questionnaire, most of students had positive responses toward the implementation of impromptu speech method in learning speaking.
Actions (login required)