Vera Maulidar, 231324330 (2018) An Analysis of Students' Reading Interest at UIN Ar-Raniry. Skripsi thesis, UIN Ar-Raniry Banda Aceh.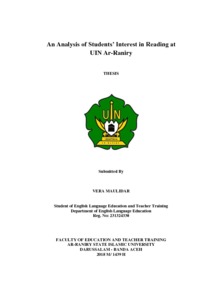 Preview
Text (Mengenai tentang Reading)




VERA MAULIDAR.pdf

- Published Version
Available under License Creative Commons Attribution.
Download (894kB) | Preview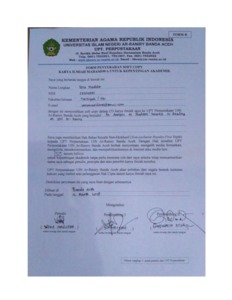 Preview
Text




From B dan From D.pdf


Download (263kB) | Preview
Abstract
Reading is very crucial in our life, especially to the college students. Reading does not only give the knowledge, but also makes the students think critically. Therefore, reading should be the main activity to the college students. This study analyzed students' reading interest toward the students majored in English at UIN Ar-Raniry and the factors made them interested or not. The purposes of the study were to know the interest of the students in reading and some factors influenced their reading interest. The research design in this study was mix methods which combined qualitative and quantitative approaches. The writer used random and cluster sampling technique in choosing the sample of the research. The writer distributed questionnaire to 40 students of English Department and took 6 students to be interviewed. To answer the first research question, the questionnaires were distributed to know the students' reading interest. In addition to answer the second research question, the writer used semi-structured interview to know the factors influenced their interest. After collecting the data, the interview results were transcribed. The results of this research showed that the students had low interest in reading. It was also supported by the result of the interview. The percentage was 47.5%. The students mostly interested to read only when they had the assignments and reading was not their hobby. Furthermore, the students explained that some factors that influenced their reading interest were: 1) the awareness of the importance of reading, 2) motivation in reading, 3) language, 4) the availability of books in the library, 5) the intensity of times for reading, 6) perceptions 7) environment, 8) the internet, and 9) the learning system. Based on the results of the research, the writer concluded that the students had to increase their reading interest. In addition, the lecturers could also help them to grow their reading interest by giving some assignments which required a lot of references and reading a lot, asking them to make summary, and etc.
Actions (login required)