Ratna Dewi Ratnadi, 231324398 (2018) Students' Perception Toward Teacher's Pedagogic Cempetencein Teaching English (A Study at Sman I Trumon Timur. Skripsi thesis, UIN Ar-Raniry Banda Aceh.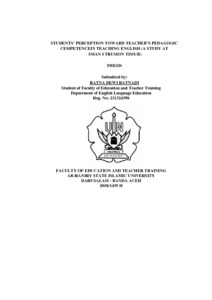 Preview
Text (Membahas Tentang Persepsi Siswa Terhadap Pengajaran Pedagogik)




Ratna Dewi Ratnadi.pdf

- Published Version
Available under License Creative Commons Attribution.
Download (819kB) | Preview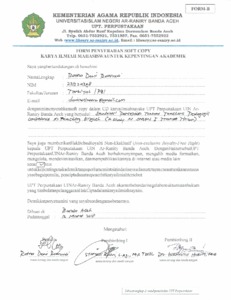 Preview
Text




Form B dan Form D.pdf


Download (638kB) | Preview
Abstract
Teachers have a prominent role in students' learning and it is irrefutable that a study about whether the teacher is able in managing his/her classrooms in pedagogic competence to help students in learning English and make the students enjoy the classrooms by the way of teacher teaches. The research question in this study is: how is students' perception toward teacher's pedagogic competence in English classroom. This study focused on three indicators of pedagogic competences namely: conducting educational learning, communicating effectively, empathetic, and manner with the students, and utilizing the assessment and evaluation for the sake of learning. This research used quantitative method through giving questionnaire for the students to see how is English teacher's pedagogic competence. The questionnaire was made with open-close ended questions and take the score of percentage then was supported by student's statements. There are three category of English teacher's pedagogic competence based on the percentage of students perception namely less competence above 55%,sufficient competence about 56%-75% and good competence about 76%-100%. The population of this study were about 153 of students in SMAN I Trumon Timur and as the sample, the researcher took all of students in the trhird year with purposive sampling technique. Based on the result, for the first indicators students perception about teacher competence in sufficient competence with the result about72,87%, for the second indicators, students give 87,2% of their positive respond and this is good competence category, and for the last indicator the students give 85% of their positive respond and this is also appertain in good competence. Students' statements also support the result of the percentage of students' perception above. Therefore, the teacher must increase her pedagogic competence for the first indicator and defend the competence for the second and the third indicator.
Actions (login required)