Henny Marliani, 231324228 (2018) The Analysis of Figurative Language in Harris J. Songs. Skripsi thesis, UIN Ar-Raniry Banda Aceh.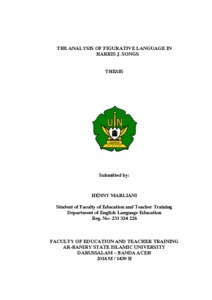 Preview
Text (Mengenai tentang Bahasa Kiasan)




HENNY MARLIANI.pdf

- Published Version
Available under License Creative Commons Attribution.
Download (2MB) | Preview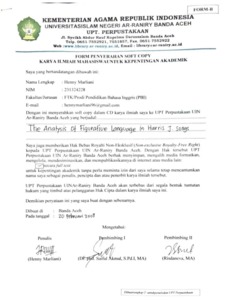 Preview
Text




From B dan From D H.pdf


Download (455kB) | Preview
Abstract
This study analyzes figurative language used in Harris J. song lyrics. The purpose of this study is to find out the types of figurative language and its meaning. This study uses qualitative approach with content analysis. In this study, the writer collected the data by selecting, watching on You Tube, retyping, collecting and printing the lyrics, and highlighting the figurative language in the song lyrics. The types of figurative language included in this study are metaphor, simile, personification, and hyperbole. Moreover, the writer analyzed the data by classifying, noting down and coding the data by using Magnitude Coding. The data analysis showed that the metaphor and personification are predominantly used in the songs followed by hyperbole and simile. In addition, related to the meaning, the writer found that the song lyrics describe about Allah Subhanallah Ta'ala, Prophet Muhammad Shalallahu 'Alaihi Wassalam, personality, social, parents, and the goals of live. The result of this study can help students recognize the figurative meaning of Harris J. song lyrics.
Actions (login required)