Selvia Lestari, 231324396 (2018) Exploring The Factors Affecting Students' English Speaking Fluency. Skripsi thesis, UIN Ar-Raniry Banda Aceh.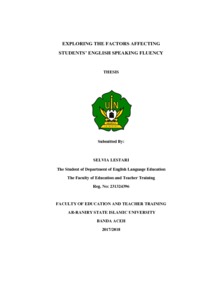 Preview
Text (Mengenai tentang Speaking Fluency)




SELVIA LESTARI.pdf

- Published Version
Available under License Creative Commons Attribution.
Download (1MB) | Preview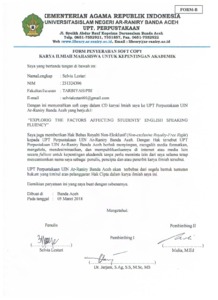 Preview
Text




From B dan From D (1).pdf


Download (449kB) | Preview
Abstract
This qualitative study was carried out to explore the factors that impact students' speaking fluency and their efforts to develop their fluency. 28 students studying at English Department in Tarbiyah Faculty participated in this study. To do so, classroom observation checklists and semi-structure interviews were employed as the data collection instruments. Classroom observations were conducted in fourth meetings, whereas interviews were conducted with students who usually participated actively when classroom process. The purpose of class observation conducted were to know the students activities in the real when teaching and learning process. The interview is very important to find factors that affect students' speaking fluency.The results of interview and classroom observation revealed that there are two main categories that affect the students' English speaking fluency: linguistic and affective factors. The linguistic factors are (1) students' vocabulary (2) their grammar knowledge, whereas the affective factors include (1) the students enjoyment of speaking (2) students' motivation to master English speaking (3)supports from the people around them (4) willing to study to abroad (5) being able to communicate with foreigners. In conclusion, this is in line with many previous research findings (e.g., Hidayat & Herawati, 2012; Derakhsan, Khalili, & Behesti, 2016; Wang, 2004).
Actions (login required)