Affied Alfayed, 231222690 (2017) An Analysis of Students' Grammatical Errors in Writing Recount Texts (A Study at Smas Babul Maghfirah Aceh Besar). Skripsi thesis, UIN Ar-Raniry Banda Aceh.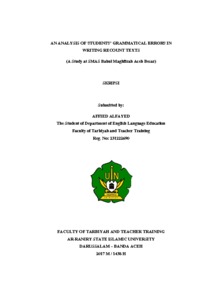 Preview
Text (Membahas tentang Analisis Gramatikal Siswa)




Affied Alfayed.pdf

- Published Version
Available under License Creative Commons Attribution.
Download (3MB) | Preview
Abstract
Grammar plays a salient role in preserving meaning construction of English texts, recount text in specific. Error, either locally or globally, may occur in the use of English by both native and non-native speakers. Therefore, this study aims at finding empirical evidence of the most common types of grammatical errors and sources of errors in recount texts written by the first year students of SMAS Babul Maghfirah, Aceh Besar. The subject of study was students' personal writing documents of recount texts about their life experience. The students' recount texts were analyzed by referring to Betty S. Azar classification and Richard theory on sources of errors. The findings showed that the total number of error is 436 errors. The two frequent types of grammatical errors were Verb Tense which was shown through 117 errors or 27% out of 436 errors, followed by Word Choice which appeared in 48 times. Regarding the sources of errors, the three sources of errors that are suggested by Richard are revealed in students recount texts. The major source of error was Intralingual Error in which its number is 197 errors. Interference Error and Developmental Error emerged in 126 and 123 errors respectively. Furthermore, the findings suggested that the teachers apply appropriate techniques and strategies in teaching recount texts which focus on past tense and language features of the text in order to reduce the possible errors to be made by the students.
Actions (login required)