Kejora Hafiza, 231324274 (2017) Analyzing the Effect of the First Language Acquisition on English Debaters' Pronunciation (a Study of the First Grade Students of Ruhul Islam Anak Bangsa Senior High School). Skripsi thesis, UIN Ar-Raniry Banda Aceh.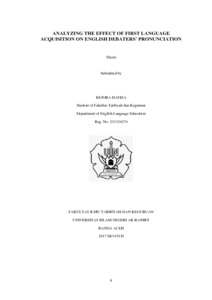 Preview
Text (Mengenai tentang Akuisisi Bahasa Pertama)




KEJORAHAFIZA.pdf

- Published Version
Available under License Creative Commons Attribution.
Download (485kB) | Preview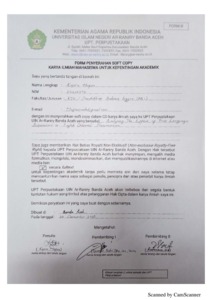 Preview
Text




From B dan From D.pdf


Download (622kB) | Preview
Abstract
This study is entitled "Analyzing The Effect Of The First Language Acquisition On English Debaters' Pronunciation (A Study Of The First Grade Students Of Ruhul Islam Anak Bangsa Senior High School). The purpose of this research is to find out the effect of the first language acquisition on English debaters' pronunciation through descriptive qualitative method. This study applied random purposive sampling where the population is all of the first grade students of debaters class, and the sample is a couple of debate teams. The debaters' speech were recorded and analyzed to see the interference of their first language on their English pronunciation. The data were analyzed in terms of stress pattern and intonational contour. The findings of the analyses show that the first language interference are exist in the debaters' speech due to the negative transfer is more dominant than the positive one.
Actions (login required)