Nurul Aflah Julana, 231324205 (2018) The Patterns of Classroom Interaction in English Speaking Course. Skripsi thesis, UIN Ar-Raniry Banda Aceh.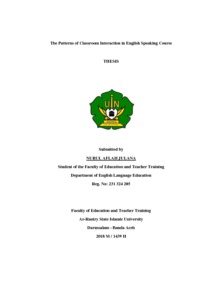 Preview
Text (Mengenai tentang Interaksi; Proses)




NURUL AFLAH JULANA.pdf

- Published Version
Available under License Creative Commons Attribution.
Download (2MB) | Preview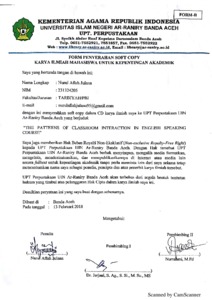 Preview
Text




Form B dan Form D.pdf


Download (836kB) | Preview
Abstract
This research was carried out to explore the patterns of interaction that occurred in the classroom process of English speaking class and teachers educator's reason in using that pattern in English speaking class in Department of English Language Education UIN Ar-Raniry. Two English speaking teachers educator took part in the study. Classroom observation and reflective interview were used to collect data. The data were analyzed by transcribing and analyzing by using Miles and Huberman's (1994) framework. The classroom processes carried out by the lecturers were video and audio-recorded. The findings show that the patterns of classroom process the teacher educators did fall into IRF, IRE, Individual work, group work, choral response, teacher talk, open-ended teacher questioning, student initiates - teacher responds, gives challenge, teacher  students interaction. However, the most common pattern from the first lecturer is individual work and from the second lecturer are IRF and group work patterns. The teacher educators used those patterns in the classroom because they work well for student learning, and effectively encourage students to speak English. The patterns that were applied by English speaking lecturers depended on the condition of the class and the characteristics of the students. In conclusion, this is in line with previous research finding (e.g., Rohmah 2017).
Actions (login required)