Edwar, 231324140 (2018) The Use of Code-Switching in Speaking English at Boarding School. Skripsi thesis, UIN Ar-Raniry Banda Aceh.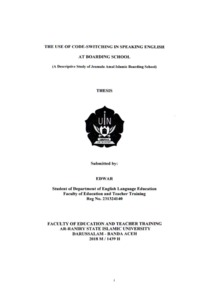 Preview
Text (Mengenai tentang Komunikasi, Berbicara, Alih Kode)




EDWAR HASAN.pdf

- Published Version
Available under License Creative Commons Attribution.
Download (1MB) | Preview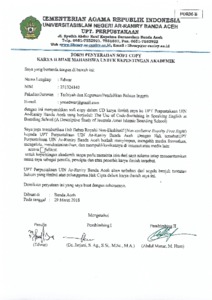 Preview
Text




Form B dan Form D.pdf


Download (863kB) | Preview
Abstract
This qualitative study was carried out to investigate the use of code-switching by students when they speak English at boarding school. Thirty students studying at the class XI IPA 1 in MAS Jeumala Amal Islamic Boarding School participated in this study. Class observation checklist, questionnaire, and structured interview were employed as the data collection instruments. The observation was conducted by utilising the checklist containing six types of code-switching developed by Pineda (2008) presented a typology of different types of switching based on the functions of the code switching in order to examine the types of code-switching used by the students. To find out the students' reasons behind code-switching, questionnaires were distributed to student participants. Two English teachers currently teaching in MAS Jeumala Amal were also interviewed to see how they viewed their students doing code-switching. The results showed that the types of code-switching used by the students can be categorized into referential, expressive, phatic, poetic code-switching. The main reason the students used code-switching was to avoid misunderstanding when speaking English to their fellow students. Moreover, the teachers positively view the students' use of code-switching as a resource to support students in learning English. In conclusion, the findings to some extent support the theories used many previous research findings.
Actions (login required)