Asna Husin, 2031125915 (2014) Acehnese Women Struggle for Peace and Justice:Challenges and Opportunities. Islam and Civilisational Renewal. pp. 318-335.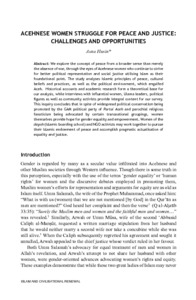 Preview
Text (Description about Acehnese Women Struggle for Peace and Justice)




Asna Husin.pdf

- Published Version
Available under License Creative Commons Attribution.
Download (1MB) | Preview
Abstract
We explore the concept of peace from a broader sense than merely the absence of war, through the eyes of Acehnese women who continue to strive for better political representation and social justice utilising Islam as their foundational point. The study analyses Islamic principles of peace, cultural beliefs and practices, as well as the political environment, which engulfed Aceh. Historical accounts and academic research form a theoretical base for our analysis, while interviews with influential women, Ulama leaders, political figures as well as community activists provide integral content for our survey. This inquiry concludes that in spite of widespread political conservatism being promoted by the GAM political party of Partai Aceh and parochial religious fanaticism being advocated by certain transnational groupings, women themselves provide hope for gender equality and empowerment. Women of the dayah (Islamic boarding school) and NGO activists may work together to pursue their Islamic endowment of peace and accomplish pragmatic actualisation of equality and justice.
Actions (login required)