Silvie Fitria, 231324152 (2018) Students' Perception on Using Outlining for Writing Argumentative Essay. Skripsi thesis, UIN Ar-Raniry Banda Aceh.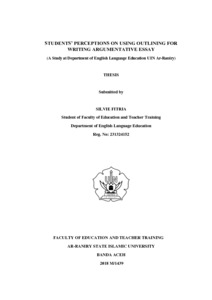 Preview
Text (Membahas tentang Teknik Belajar)




SILVIE FITRIA.pdf

- Published Version
Available under License Creative Commons Attribution.
Download (2MB) | Preview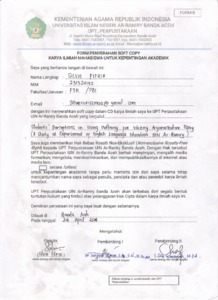 Preview
Text




Form B dan Form D.pdf


Download (577kB) | Preview
Abstract
Writing an argumentative essay is a challenging task for most English language learners. To support them in writing their essay, it is suggested to plan it by developing an outline. However, whether one uses an outline or not depends on their perceptions. This study is aimed at exploring the PBI students' perceptions on the use of outline as a plan in writing an argumentative essay. To collect data, questionnaire with closed-ended questions and interview with open-ended questions were used. The participants were purposively selected from 3 units of PBI students year 2015. The criteria of the purposive sampling in this research is the students who are taking Academic Writing Course. The data were analyzed by calculating the means of the students' reactions to the outlining in the stages of concern question. The results show the highest means are 3.44, 3.43 and 3.39. Generally most questions have high means that show PBI students view outline is beneficial in helping them in writing argumentative essay. But, two statements which have highest means state that some students are not using outline yet and interest to know more about outline. It can be suggested for lecturers to teach outline, and students can use outline to help them in writing. For interview, the interviewees were randomly chosen from the participants and every single answer was analyzed based on theme of difficulties, the way they dealing with the difficulties, aspects outline helps them and differences outline give in their writing. The findings are the outline has good impact in avoiding students' difficulties, and as problem solver to face the difficulties in writing argumentative essay.
Actions (login required)