Khairunnisak, 231324391 (2018) The Analysis of Students Perception on Plagiarism in Completing Thesis. Skripsi thesis, UIN Ar-Raniry Banda Aceh.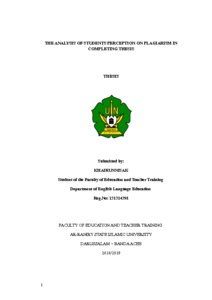 Preview
Text (Membahas tentang Plagiat)




KHAIRUNNISAK.pdf

- Published Version
Available under License Creative Commons Attribution.
Download (258kB) | Preview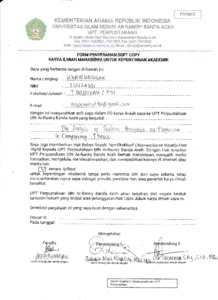 Preview
Text




Form B dan Form D.pdf


Download (1MB) | Preview
Abstract
Graduate students are increasing years by years. Before graduating, they should complete their thesis; their research. However, when writing their thesis, some students often caught plagiarizing. Regarding the issue, the writer want to investigate students' perceptions about plagiarism in completing thesis, two research questions were set to lead the study (1) what are students' perceptions about plagiarism in completing thesis (2) why did the students do plagiarism. A qualitative research was used to determine the research result. To obtain the data, the researcher utilized interview. Participants involved in this study were 12 students who are completing their final thesis. The result of this study showed that students have different perception about plagiarism, Nine out of twelve participants said that plagiarism is not good or bad habit, but there are also 3 of them said that plagiarism is not really bad. Sometime plagiarism can be positive or negative because plagiarism helps them to complete their assignment when the have no idea to paraphrase the statements or theories. The negative side is harming the original owner of work that they trace. Furthermore, the reasons why students did plagiarism are: limited sources and references, poor idea to paraphrase or summarize, the lazyness to paraphrase and summarize, low motivation to read some journals and reference, limited time to complete assignment and thesis, and the instant way to finish thesis and assignment.
Actions (login required)