Syarifah Rahmi Muliana, 231324196 (2018) The Role of Audio Visual to Develop Students' Pronunciation (A Study at English Department of UIN Ar-Raniry). Skripsi thesis, UIN Ar-Raniry Banda Aceh.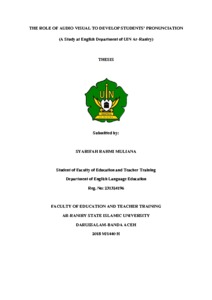 Preview
Text (Membahas tentang Pengucapan, Bahasa)




SYARIFAH RAHMI MULIANA.pdf

- Published Version
Available under License Creative Commons Attribution.
Download (2MB) | Preview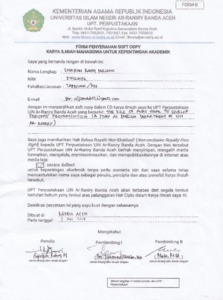 Preview
Text




Form B dan Form D.pdf


Download (575kB) | Preview
Abstract
Audio Visual Media could make language input more comprehensible. It can be used as language learning materials for foreign language learner. Audio Visual Media not only increase students desire and motivation in learning but also create the learning process become more concrete and meaningful. This study focused on the role of Audio Visual in developing students pronunciation process. This research was conducted at Department of English Language Education of UIN Ar-Raniry at 1st semester of 2017 involving 33 students as the samples. The method applied in this research was experimental research by using quantitative approach. The data was obtained through pre-test and post-test, experimental teaching, and distributing quetionnaire. This study compared mean average between pre-test and post-test and found out students' response toward Audio Visual Media. Furthemore, the result show that teaching vocabulary by exploring Audio Visual Media give effect on the students pronunciation. The mean score of pre-test was 66,29 and the mean of post-test was 73,33, the effectiveness was accepted after examining the hypotheses. It showed in ttest calculation where ta (2.7) was higher tha ttest (1.7), its means that Audio Visual Media play the role in improving students pronunciation at Department of Language Education UIN Ar-Raniry increased in the first year students of unit three. Moreover, the result of questionnaire reveals that the students had a positive response towards Audio Visual Media in teaching pronunciation.
Actions (login required)