Iskandar, 231222693 (2018) Students' Perception on the Use of Facebook as A Discussion Group in Helping Students Express Ideas through Written Form. Skripsi thesis, UIN Ar-Raniry Banda Aceh.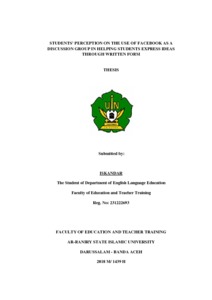 Preview
Text (Membahas tentang Media Komunikasi)




Iskandar.pdf

- Published Version
Available under License Creative Commons Attribution.
Download (1MB) | Preview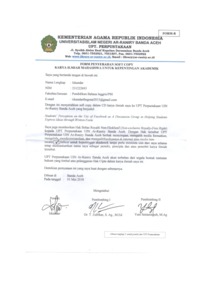 Preview
Text




Form B dan Form D.pdf


Download (450kB) | Preview
Abstract
This study analyzed students' point of view toward Facebook usage as a discussion group in helping students express ideas through written form. The purpose of the study were; (1) to find out students' perception on the use of Facebook as a discussion in helping them generate ideas through written form, to find out the benefits of using Facebook as a discussion group in learning writing. The research design in this study was mix method which as a combination of qualitative and quantitative approaches. The writer used purposive sampling to choose the sample of the research. The participants engaged in this research were totally 10 students of the 6th semester at the Department of English Language Education of UIN Ar-Raniry to answer questionnaire and 3 students among all respondents were also distributed structured interview through written papers to support the result of questionnaire. They were selected from different classes in the same grade. The data was collected through sequential explanatory strategy. The result of this research showed that the students had various perception on the use of Facebook as a dicussion group in helping them express ideas through written form. In this respect, most of students agreed that the use of Facebook as discussion group really helped them generate ideas easily and freely through written form. They also were motivated to learning English writing on Facebook platform because it was as a facilitator that provided fun learning method for learning writing. By learning writing through Facebook, students got more knowledge from friends' comments, felt more comfortable in online, had more space time to finish writing assignments and got the writing itself done without having face-to-face in classroom. So, they all are the profits of Facebook usage for students in helping them to learn English writing.
Actions (login required)