Asna Husin, 2031125915 (2015) Bridging Traditional Scholarship and Modern Thought: Reflections on Seyyed Hossein Nasr and Yusny Saby. In: Yusny Saby Sang Motivator: Menelusuri Karakter Pemimpin Jujur dan Ikhlas dalam Membangun Umat. Lembaga Studi Agama dan Masyarakat Aceh (LSAMA), Banda Aceh, pp. 279-290.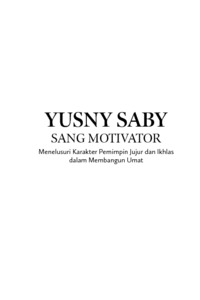 Preview
Text (Description of renowned professors of Islamic Studies including Professor Yusny Saby)




Asna Husin.pdf

- Published Version
Available under License Creative Commons Attribution.
Download (11MB) | Preview
Abstract
Professor Yusny Saby celebrated his 70th birthday on 26th June 2014, a celebration of his long engagement in academic activities and public life. The eleventh Rector (2005-2009) of the State Institute of Islamic Studies (IAIN Ar-Raniry) was a student of traditional madrasah, beginning in his village of Bugak Krung Matee in Peusangan, North Aceh, reaching the university level when he completed his doctorandus (a pre-master's degree academic title adopted from the Dutch system) at Ar-Raniry's Faculty of Syari'ah in the field of Peradilan Islam or Qaḍā' in 1979. Yet, he also became exposed to modernity and modern education as the debates between Indonesia's Muslim nationalists and their secular counterparts dominated Indonesian thinking during the 1940s through the 60s. His love for literature also developed during this period. Yusny's experience with modern education was further augmented at the age of forty when he received a Scholarship from the Asia Foundation to enroll in the Department of Religion at Temple University, in America's City of 'Brotherly Love' Philadelphia. During his work towards a Doctorate Degree at Temple University Pak Yusny had a rare opportunity to study with a number of renowned professors of Islamic Studies including Professor Seyyed Hossein Nasr, who helped him delve into the depth of Islamic thought, ḥikmah philosophy and mysticism. Pak Yusny has always felt indebted to Prof. Nasr and regarded him as one of his academic mentors. As his student and colleague I would like to join with others in celebrating Prof. Yusny's birthday by exploring some of Professor Nasr's ideas in bridging tradition and modernity, by looking at two books – An Introduction to Islamic Cosmological Doctrines and Three Muslim Sages – read by Yusny during his study with Nasr.
Actions (login required)