M. Ridha Mufthi, 231222721 (2018) An Exploration on Students' Learning Speaking Strategies (a Case Study at Tarbiyah Faculty of UIN Ar-Raniry Banda Aceh). Skripsi thesis, UIN Ar-Raniry Banda Aceh.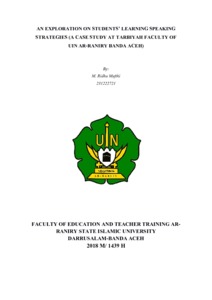 Preview
Text (Membahas tentang Komunikasi, Berbicara)




M. Ridha Mufthi.pdf

- Published Version
Available under License Creative Commons Attribution.
Download (1MB) | Preview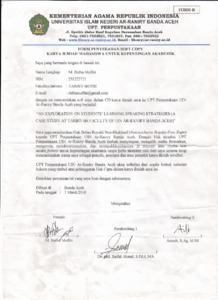 Preview
Text




Form B dan Form D.pdf


Download (506kB) | Preview
Abstract
This research is intended to find out the strategies used by the students to overcome their problems in speaking English. In conducting this research, the author used qualitative descriptive method. The participants in this study were the students of semester VII majoring in English Language Education academic year 2017/2018 at UIN Ar-Araniry. 70 participants were chosen to answer 10 questions of questionnaire and 8 participants were selected to answer 3 questions of interview. The Questionnaires were administered to answered the first research question of this study; that is about the about the problems experienced by students in speaking English, while the interview was used to answered the second research question of this study; that is about the strategy used by the student in mastering English speaking. Based on the data obtained from these instruments, the writer concludes that the participant encountered several problems including internal and external problems in speaking English. The internal factors are lack or inappropriate use of vocabularies, lack of confidence, pronunciation mistakes, having no idea, the influence of mother tongue and making grammatical mistakes while speaking English. The external factors include less sufficient support from surrounding, lack of the opportunities speaking in class and strategies used by the lectures in teaching speaking. Several sources were used to improve speaking ability, for an example, Dictionary, Video or Movies, Novels and Music. Moreover, some strategies were applied to overcome the English problems such as Practicing with friends, listening the English audio and joining speaking club.
Actions (login required)