Kusmawati Hatta, 2020196401 (2015) Are There Any Benefits of "Art Therapy" of Armed Conflict and Tsunami Victim Children in Aceh. -, IMPACT Forum, Muang Thong Thani Nonthaburi Thailand, i-106.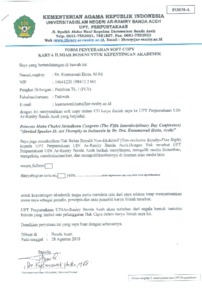 Preview
Text (Membahas tentang Therapy)




Form A dan Form C (Princess Maha Chakri).pdf

- Published Version
Available under License Creative Commons Attribution.
Download (446kB) | Preview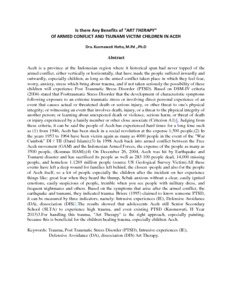 Preview
Text (Membahas tentang Therapy)




Article Art Therapi Bangkok.pdf

- Published Version
Available under License Creative Commons Attribution.
Download (391kB) | Preview
Abstract
Aceh is a province at the Indonesian region whereit historical span had never topped of the armed conflict, either vertically or horizontally, that have made the people suffered inwardly and autwardly, especially children, as long as the armed conflict taken place in which they fell fear, worry, anxiety, stress which bring about trauma, and if not taken seriously the possibility of these chilrden will experience Post Traumatic Stress Disorder (PTSD). Based on DSM - IV criteria (2004)stated that posttraumatic Stess Disorder that the develepment of characteristic symptoms following exposure to an extreme traumatic stressor involving direct personal experience of an event that causes actual or threatened death or serious injury, or other threat to one's physical integrity of another person;or learning about unexpected death or violence, serious harm, or threat to the physical integrity; or experienced by a family member or other close associate (Criterion A1). Judging from these criteria, it can be said the people of Aceh has experienced hard times for long time such us (1) from 1946, Aceh has been stuck in a social revolution at the expense 1,500 people; (2) In The years 1953 to 1964 have been victim again as many as 4000 people in event of the "War Cumbok" DI/TII (Darul Islam);(3) In 1998 Aceh back into armed conflict between the Free Aceh movement (GAM) and the Indonesian Armed Forces, the expense of the people as may as 3500 people, (Komnas HAM); (4)On Desember 26, 2004, Aceh was hit by Earthquake and Tsunami disaster and has sacrificed its people as well as 283 100 people dead, 14,000 missing people, and homeless 1.1269 million people ( Source US Geological Survey Victim). All these events have left a deep wound for families left behind, the closest-people and also for the people of Aceh itself, so s lot of people especially the children after the incident on her experience things like: great fear when they heard the thump, Sebak anxious without a clear, easily ignited emotions, easily suspicious of people, trenble when you see people with military dress, and frequent nigtmares and others. Based on the symptoms that arise after the armed conflict, thje earthquake and tsunami, they in indicated trauma. Briere (1995) claimed ti know someone PTSD, it can be measured by three indicator, namely: Intrusive experiences (IE). Defensive Avoidance (DA), Dissociation (DIS). The results showed that adolescents Aceh still Senior Secondary School (SLTA) to experience high trauma, and even existing PTSD (Kusmawati, H Year 2013)3. For handling this trauma, "Art Therapy" is the right appoach, especially painting, because this benefical for children haeling trauma, especially children Aceh.
Actions (login required)