Nurjamaliah, 231324268 (2018) The Implementation of Start Simple Stories (SSS) method to Improve Students' Reading Comprehension (An Experimental Study on Second Grade of MTsN Indrapuri). Skripsi thesis, UIN Ar-Raniry Banda Aceh.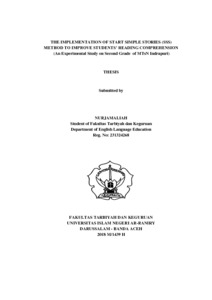 Preview
Text (Membahas tentang Metode Membaca)




Nurjamaliah.pdf

- Published Version
Available under License Creative Commons Attribution.
Download (1MB) | Preview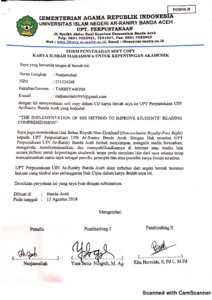 Preview
Text




From B dan From D.pdf


Download (1MB) | Preview
Abstract
The purposes of this research are to find out the differences score of students before and after the application of SSS method, and to find out the students perception of using SSS method in teaching reading. The subjects of this research were 26 students of the second grade of MTsN Indrapuri in the academic year of 2016/2017. This research used quantitative approach. The writer used two research instruments. There were tests and questionnaire. Based on the results of test the writer concludes that the mean score of post-test is higher than pre-test (61,15> 28,46). While the result of t-test was 4,78, the critical value was 0.05 and degree of freedom (df)= N-1= 26-1= 25 is 2.03. The obtained t-score was 4,78. So the t-score was higher than t-table (tscore = 4,78> ttable =2.03). It means that there was a significant difference of achievement in the test result before and after applying this method. The result of the questionnaire proved that most of the students were interested in using SSS method.
Actions (login required)