Datiin Dibya Tri Utami, 231324246 (2018) The Influences of Using Song Lyrics in Grammar Learning. Skripsi thesis, UIN Ar-Raniry Banda Aceh.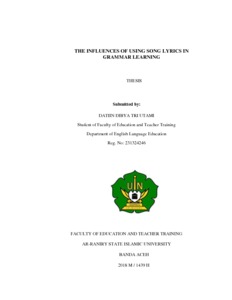 Preview
Text (Membahas tentang Kosa Kata)




Datiin Dibya Tri Utami.pdf

- Published Version
Available under License Creative Commons Attribution.
Download (1MB) | Preview

Preview
Text




From B dan From D.pdf


Download (371kB) | Preview
Abstract
Song is one of the media that has been used in language learning. Some research found that song can improve students' vocabulary, pronunciation, speaking, and listening skills. However the study about the influence of song lyrics and students' grammar learning still need to be investigated. This research was aimed at identifying 1) the influence of song lyrics towards their understanding of grammar, and 2) how they recognize the grammar on the song lyrics. The study employed quantitative research methods. The sample of this study was 70 students in the first year of English language education department. This study used grammaticality judgment test and questionnaire. The grammaticality judgment test was used to measure students' understanding of grammar in song lyrics and questionnaire was applied to find their ways in identifying grammar patterns in song lyrics. To differentiate students' level of understanding of grammar, 5 criteria were used: Very good, Good, Sufficient, Insufficient, and Poor. The result indicated that 55% of the students can recognize the grammar patterns in the song lyrics. On the other hand, identified verb and to be (47,2%) as the most applied by the students to recognize the grammar on the song lyrics.
Actions (login required)