Maisal Rahmadi Aka, 231324279 (2018) Students' Problems in English Writing: An Analysis on Senior High School Students' Writing Work. Skripsi thesis, UIN AR-RANIRY.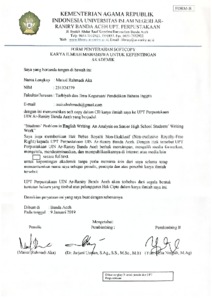 Preview
Text




Form B dan Form D Maisal Rahmadi Aka.pdf


Download (655kB) | Preview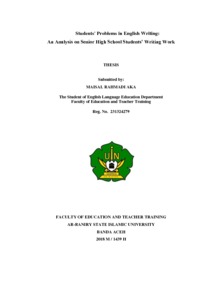 Preview
Text




MAISAL RAHMADI AKA - SKRIPSI FULL.pdf


Download (2MB) | Preview
Abstract
This study explored to find out the most common errors students make in their English writing work and figure out students' perceptions towards their teachers' supports to solving the problems. Mixed methods, qualitative and quantitative were employed to answer the research questions. Qualitative data were analyzed descriptively and quantitative data were statistically analyzed. The qualitative data findings from the document analysis on this study exhibited that the students make many kinds of errors in their English writing work. Total numbers of the errors made was 350 errors under the 21 error sub-types. Grammar aspect place in the first most frequent errors that students made (159 or 46% errors), followed by mechanic aspect (123 or 35% errors) in their writing work. Regarding to students' responses of their teacher supports to solving the problems, the results of questionnaires show that most of students agree that their teacher gives support in solving the problems such as giving suitable activities in teaching English writing and correcting in mechanic, organization, grammar, vocabulary, and content writing aspects. Similar study confirmed by Ariyanti & Fitriana (2017) found that EFL students have major difficulties in grammatical, cohesion and coherence terms. Moreover, Abbas (2017) said that students felt difficult in developing and organizing idea with correct grammar in composition, mean that the aspect of grammar influenced to other aspects in English writing. Dealing with teacher support in solving the problems, he confirmed that teacher have to facilitate and improve the students writing skill with appropriate learning material and reflection.
Actions (login required)