Saman, Muhammad Nasir (2016) The Struggle for Women Education in Swat Pakistan: An Analysis of "I am Malala": A Novel By Malala Yousafzai. In: 3rd World Conference on Integration of Knowledge, 28-29 November 2016, Langkawi Malaysia.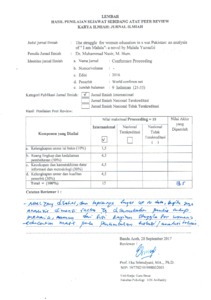 Preview
Text




The Struggle for Women.pdf


Download (1MB) | Preview
Abstract
The importance of education for a woman is not only to gain equality and avoid harassment, but rather to establish the political power, although she must fight the authority and Taliban's challenges. So, it is with education, because education is the obligation and the right of human beings, even though there was the strongest challenge from Taliban. Through this essay the writer will describe Malala's struggles for women's right concerning education in the Swat Province of Pakistan. The writer also aims to find out her ways in struggling by using the concept of feminist criticism, especially Gynocriticism pioneered by Elaine Showalter. The first is the examination of female writers and their place in literary history. The second is the consideration of the treatment of the female characters in books by both male and female writers. The third and most important aspect of gynocriticism is the discovery and exploration of a canonical literature written by women. However, in this essay the writer will base his analysis only on the second aspect; 'feminist' phase, namely criticizing the role of women in society and the oppression of women. So, all the treatments and oppression against women can be identified closely and clearly.
Actions (login required)