Fetra Della FB, 140203254 (2018) The Influences of Self-efficacy on Students' Speaking Ability in The Classroom. Skripsi thesis, UIN Ar-Raniry Banda Aceh.

Preview
Text




SKRIPSI PUBLISH.pdf


Download (2MB) | Preview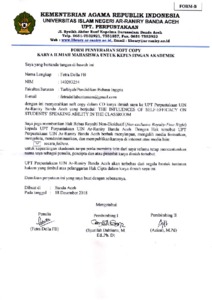 Preview
Text




FORM B-D.pdf


Download (230kB) | Preview
Abstract
Self-efficacy is a students' self-assessment which is related to students' belief about their capability to achieve the goals. The aims of this study are to find out the students' self-efficacy and speaking ability at SMPN 14 Banda Aceh, and to discover the impact of students' self-efficacy on speaking ability. The writer collected the data from questionnaire and test and analyzed the data through percentage of questionnaire, rubric speaking for test and using pearson's product moment coefficient of correlation SPSS 34. This study involved twenty students of eight grade Junior high school of 14 in Banda Aceh. The writer took the sample by using random sampling. The findings in this research are; there are 4 (20%) students have high self-efficacy, 16 (80%) students have moderate self-efficacy and no student related to low self-efficacy. The result of average students' speaking score is 79, it means that students second grade at SMPN 14 have moderate ability in speaking English.The result of correlation is significant. Thus students' self-efficacy and students' speaking ability have positive correlation.
Key words: self-efficacy, speaking ability
Actions (login required)