Irfan Moulida, 140203205 (2019) Students' Challenges In English Public Speaking Program At Dayah Darul Ihsan. Skripsi thesis, UIN Ar-Raniry Banda Aceh.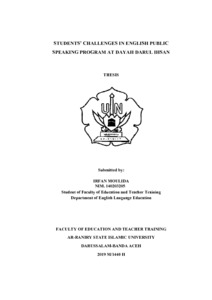 Preview
Text




SKRIPSI.pdf

- Published Version
Available under License Creative Commons Attribution.
Download (2MB) | Preview
Abstract
This study investigated the students' challenges in English public speaking program at Dayah Darul Ihsan. Two research questions were formulated to find out the challenges existing in students' public speaking performance, and to find out ways they cope with such the challenges. This study employed a qualitative research approach. Questionnaire and interview were used to collect data. Questionnaires were distributed to 40 students with a view to find out the challenges, whereas a face to face individual interview was conducted with 6 students in order to get more in depth data about their challenges and the way they cope with the challenges in English public speaking. Finally, the results of this study show that there are many challenges encountered by students in public speaking. These challenges refer to linguistic problems and non-linguistic problems including; fluency, pronunciation, lack of vocabulary, nervous, anxiety, and afraid of making mistakes.
Item Type:
Thesis (Skripsi)
Additional Information:
Supervisor: 1. Habiburrahim, S. Ag., M.Com., MS, Ph.d 2. Drs. Amiruddin, M.Pd
Uncontrolled Keywords:
Public Speaking, Challenges, Speaking Challenges
Subjects:
300 Sociology and Anthropology (Sosiologi dan Antropologi) > 370 Education (Pendidikan) > 371 Sekolah dan Aktivitasnya: Pendidikan luar biasa > 371.8 Siswa, Murid, Peserta didik, Anak didik
300 Sociology and Anthropology (Sosiologi dan Antropologi) > 370 Education (Pendidikan) > 372 Pendidikan dasar > 372.6 Bahasa (Ketrampilan Komunikasi)
300 Sociology and Anthropology (Sosiologi dan Antropologi) > 370 Education (Pendidikan) > 373 Pendidikan menengah
Divisions:
Fakultas Tarbiyah dan Keguruan > S1 Pendidikan Bahasa Inggris
Depositing User:

Irfan Moulida

Date Deposited:
20 Jun 2019 07:29
Last Modified:
20 Jun 2019 07:29
URI:
https://repository.ar-raniry.ac.id/id/eprint/8230
Actions (login required)