Maya Angrayni, 140203110 (2019) Students' Difficulties In Using Affixation (A Study In English Education Department Of UIN Ar-Raniry). Skripsi thesis, UIN Ar-Raniry Banda Aceh.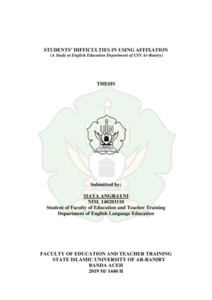 Preview
Text (Membahas tentang Imbuhan)




Maya Angrayni_140203110_Thesis Full Chapter.pdf

- Published Version
Available under License Creative Commons Attribution.
Download (1MB) | Preview
Abstract
The research was accomplished to analyse students' difficulties in using appropriate affixation and their strategies to overcome their difficulties. This research was completed by using a descriptive qualitative method. The samples were the seventh semester students of batch 2015 in English Education Department of UIN Ar-Raniry. The research used judgment/purposive sampling by the criteria of students who got score A, B, or C in Vocabulary and Pronounciation, Academic Writing, and Translation II class. Essay translation and semi-structured interview were used as instruments to answer the research questions of this research. From the result of the research, it can be found that there are four difficulties the students faced in using affixation; detecting the form of word, deciding the appropriate affixations, selecting the type of affixations, and having lack of vocabulary. However, students have different effective strategies to overcome their difficulties regarding the use of affixation.
Actions (login required)