Hilyatun Nafis STG, 231324400 (2017) Students' Preference of Language Learning Style in English Classroom (A Survey in Senior High School No 1 Seulimeum). Skripsi thesis, UIN Ar-Raniry Banda Aceh.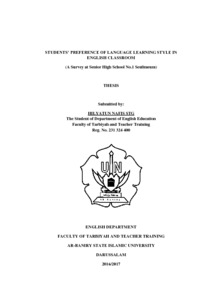 Preview
Text (Membahas Tenntang Gaya Belajar)




Hilyatun Nafis STG.pdf

- Published Version
Available under License Creative Commons Attribution.
Download (3MB) | Preview
Abstract
Language learning style is a part of human being. Chandler stated that every person has an individual learning style, as similar with notion which was firstly observed by Aristotle in 334 B.C. English is a foreign language in Indonesia learnt by students in teaching learning process. This research held in Senior High No. 1 Seulimeum and used coincidental sampling during data collection. Some students feel that their environment and teacher's methodology in teaching learning process did not support them to master English, but they still be able to speak English well. The writer wants to find out why the students able to understand English when they did not like English class. The writer used a questionnaire that VARK questionnaire which was designed by Neil Flemming. The questionnaire was used to find out the types of language learning styles preferred by the students. Based on the results from questionnaire, most of students chosen visual style (46%) as their own language learning styles that they preferred. Gender also created the diversities of language learning style between male and female students. For male students, visual learners are dominant as 62%. On the other hand, 37% of female students preferred that auditory types as their own language learning style. In the end, the writer found that language learning style cannot to be a standard measurement on students' achievement in English class. Because every student have different intelligence that the teacher should aware in the first meeting, then the teacher should prepare an appropriate teaching method to accumulate all types of students' language learning styles. This thesis will warn all teachers about differences of students' language learning style and ensure them to choose the best teaching method for teaching learning process.
Actions (login required)