Nurul Husna, Husna (2020) Exploring The Assessment In Speaking Classroom. Skripsi thesis, UIN Ar-Raniry Banda Aceh.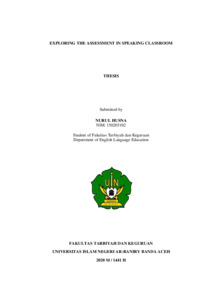 Preview
Text (Penilaian percakapan di dalam kelas)




Nurul Husna, 150203102, FTK, PBI, 082259020095.pdf


Available under License Creative Commons Attribution.
Download (5MB) | Preview
Abstract
In speaking assessment, the lecturers pay more attention of how to develop students' speaking skill rather than assessing the speaking itself. Moreover, EFL students usually face some challenges in speaking classroom. The aims of this research are to investigate kind of assessment used by lecturers in the speaking classroom and to explore the EFL students' challenges towards the assessment in speaking classroom. This research was conducted in Fakultas Tarbiyah dan Keguruan Department of English Language Education. The subject of the research were 5 English teachers who have been teaching speaking for five years and 100 students in the seventh and ninth semester at academic year 2016 and 2015 who had taken Public Speaking and English Language Assessment course. This research implemented mix method by using interview and questionnaire and it was analyzed descriptively. The result of this research revealed that: all lecturers' put their objectives in assessing students' speaking skills as encouraging students' self-confidence; most of lecturers point out that vocabulary and pronunciation are the main criteria to be assessed in speaking rather than others; the lecturers give various performance tasks based on students' interests, prior knowledge and speaking class level; all lecturers use both of formative and summative tests in speaking classroom; all lecturers react to the students' performance by giving them verbal feedback; and there are various agreements towards the challenges faced by students in speaking classroom. This research can be used for lecturers as an overview to overcome the students' challenges toward assessment in speaking classroom.
Actions (login required)