Septi Ariska, 150203130 (2020) An Analysis Of Speaking Communicative Activities In "Experiencing English I" Textbook. Skripsi thesis, UIN Ar-Raniry Banda Aceh.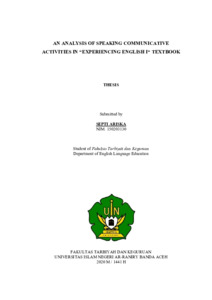 Preview
Text




Septi Ariska, 150203130, FTK, PBI, 089678041544.pdf

- Published Version
Download (2MB) | Preview
Abstract
The research was conducted to investigate the extent to which speaking activities reflect the communicative activities proposed by Richards and Rodgers in the textbook "Experiencing English I". The English textbook studied is entitled "Experiencing English I" (TIM MASMEDIA BUANA PUSTAKA, 2014). The focus of the study was to analyze the speaking activities inside the English textbook. This study used descriptive qualitative method in conducting the research. The data were collected using the textual analysis. In the textbook, According to the data that has obtained, it is clearly shown that there were five groups work activities, four fluency activities and five meaning-focused activities in the textbook. It demonstrates that the textbook applies more CLT principles based on Richard theory. The large number of those activities includes meaning focused or meaningful practise, fluency and group work are the criteria of the communicative activities. The results showed that the activities that communicate embody the principle of communicative activities. In addition, the speaking activities were deemed sufficiently communicative to be used in English teaching and learning based on its group-individual function, its degree of fluency-accuracy and meaningful-mechanical activity.
Actions (login required)