Uswatun Hasanah Mawardi, 160203173 (2021) The Use of Vlog for Self-Improvement of Students' Speaking Ability ( A Case Study of PBI Students at UIN Ar-Raniry). Skripsi thesis, UIN Ar-Raniry.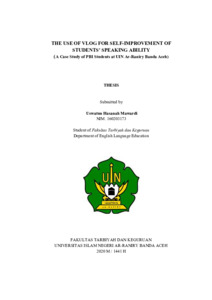 Preview
Text (this study was coducted to the use of vlog for self-improvement of students' speaking ability)




Uswatun Hasanah M., 160203175, FTK, PBI, 082276805479.pdf

- Published Version
Available under License Creative Commons Attribution.
Download (10MB) | Preview
Abstract
The research was accomplished to explore the use of Vlog for self-improvement of students' speaking ability. This research was completed by using qualitativeresearch and the researcher used the interview technique to collect the data. In analyzing data, the researcher used the method of Miles and Huberman, there are 3
stages: 1) Data Reduction, 2) Data Display, and 3) Conclusion Drawing/Verification Conclusion. The aims of this study are to find out the students' responses after using Vlog and in what area the students improve the
most their speaking ability. Participants were 10 students of the department of English language education of UIN Ar-Raniry and it took by using purposive sampling. The result of this study is the students get more interested in speaking after using Vlog. Furthermore, the students feel improve the most in some components ofspeaking after practicing by using Vlog. The researcher recommended this study for readers as the reference for the next research.
Actions (login required)