Annisa Indah Sari, 160203104 (2020) An Analysis of English Textbook "When English Rings a Bell". Skripsi thesis, UIN Ar-Raniry Banda Aceh.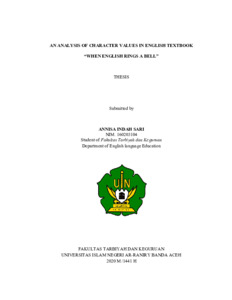 Preview
Text (An Analysis of Character Education in English Textbook "When English Rings a Bell")




Annisa Indah Sari.pdf

- Published Version
Available under License Creative Commons Attribution.
Download (7MB) | Preview
Abstract
Character education is an educational concept that is highly emphasized in the current curriculum. The application of character education is a form of government concern for the development of the next generations. The implementation of character education should be applied in all aspects related to education, including in the textbook. It is because the textbook is one of the primary sources in teaching and learning activities in the classroom. By using the textbook that is in accordance with national education standards, the activities of implementing character education can be more effective and efficient. Therefore, this research is designed to determine what character values are found in the textbook "When English Rings a Bell" for second-grade junior high school. Then, the researcher also conducted an assessment of how the values of character education were represented in the English textbook "When English Rings a Bell". To answer both questions, the researcher used a descriptive qualitative approach and content analysis method in order to obtain answers to these questions. The findings of this research can be concluded that the character education values contained in this textbook consist of 18 points of character education values which are applied with 15 values presented in pictorial data and 17 values presented in the utterance data.
Actions (login required)