Nurul Sakdiah, 170203021 (2021) The Impact of Following Instagram Accounts on the Users' Language Attitude. Skripsi thesis, UIN Ar-Raniry.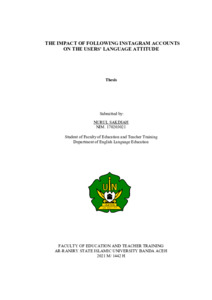 Preview
Text (The Impact of Following Instagram Accounts on the Users' Language Attitude)




Nurul Sakdiah, 170203021, FTK, PBI, 082211445981.pdf

- Published Version
Available under License Creative Commons Attribution Non-commercial.
Download (3MB) | Preview
Abstract
The increasing population of internet users also increases the use of social media. Instagram considers as the fifth biggest social media that is used. The language is used on Instagram varies. It is caused by the multilingual users who have different language. However it can be an opportunity to the non native of a language to master other language by connecting to the native speaker. They can create and pick their language environment by following other accounts on Instagram. This study was conducted to identify the language attitude of Instagram user toward the impact of following Instagram accounts. This research was designed in qualitative study. The data collection technique of this research was semi-structured interview that was conducted to five participants. They had met the qualification as the participants of this research. The research finding indicated three impacts of Instagram toward the language users. There are language exposure, language environment and vocabulary enrichment. The positive attitude toward English and language variation had been indicated on this research, while negative attitude of this research was indicated toward local language.
Actions (login required)