Badral Rifqi, 231020581 (2017) Students' Learning Strategies in Successfully Studying at Two Majors. Skripsi thesis, UIN Ar-Raniry.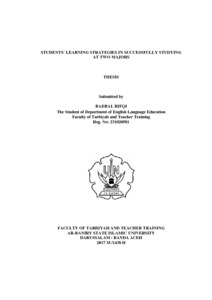 Preview
Text (Membahas tentang Students' Learning Strategies)




SKRIPSI PDF GABUNGAN.pdf

- Published Version
Available under License Creative Commons Attribution.
Download (1MB) | Preview
Abstract
It is a matter of fact that a number of university students in Banda Aceh decided to pursue the Bachelor degree in two universities at the same year or a year after. A number of studies have been conducted to investigate the learning strategies used by students and their difficulties, however, only a few (if any) conducted in the context of students who take two majors in two different universities. The aim of this current study is to investigate the learning strategies and difficulties that the students who study at two majors may encounter. Ten participants who study in UIN Ar-Raniry and Unsyiah have been selected. The 10 participants are majoring in TEN and various majors such as Law Faculty, Psychology Faculty, Engineering Faculty, Pharmacy Department, Mathematic and Science Faculty, and Economy Faculty in University of Syiah Kuala respectively. To gain the data, face-to-face interview and document analysis have been conducted. The result shows that the participants use cognitive learning strategy, behavioral learning strategy, and self-regulated learning strategy in their learning process. The obstacles of partcipants may encounter also revealed, they are: course time conflict, lack tolerance of certain lecturer for student who take two majors, far distance between UIN and Unsyiah when UIN under reconstruction, having difficult administration management, and communication problem in group assignment.
Key words: Learning strategies, Studying, Two majors.
Actions (login required)