Ira Muliana, 231324123 (2018) Classroom Bullying: What Does the Lecturers Do About It? Skripsi thesis, UIN Ar- Raniry Banda Aceh.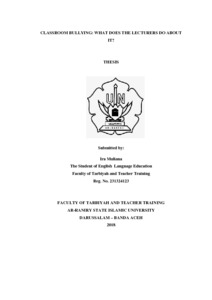 Preview
Text (Membahas tentang Bullying)




ira muliana.pdf

- Published Version
Available under License Creative Commons Attribution.
Download (378kB) | Preview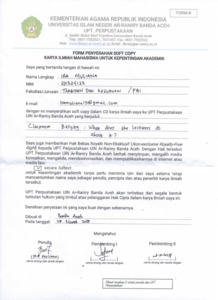 Preview
Text




Form B Dan Form D.pdf


Download (574kB) | Preview
Abstract
The purpose of this study is to explore the students' and lecturers' perceptions towards classroom bullying. To clearly explore students' and lecturers' perceptions, four research questions were set to lead the study; (1) What kinds of classroom bullying that happen in the second year batch of PBI UIN Ar-Raniry (2) What factors triggering students to bully others in the classroom (3) What are steps taken by lecturers to anticipate and prevent classroom bullying (4) What are the impacts of classroom bullying on students' achievement. The participants of this study were 20 sophomore students and 2 lecturers chosen by random sampling techniques. Open-ended questionnaire and interview were used to obtain the data. The data were analyzed by using Thematic Analysis of Miles and Huberman. The findings showed that sophomore students of English Department UIN Ar-Raniry committed bullying such as; Mocking, Name-calling, Exclusion, Disrespect and Underestimated. It was also supported by the interview results which revealed that exclusion and underestimated are the most common classroom bullying done by students. The questionnaire results indicated that Students acted bullying for some reasons; for revenge and for fun. However, lecturers noted that the students committed bullying due to superiority and relationship problem and suggested doing good classroom management and doing personal approach to control bullying in the classroom. Regarding the impact of classroom bullying on students' achievement, students have unclear perceptions about the correlation between bullying and low academic achievement.
Actions (login required)