Putri Indahna Irda, 231324145 (2018) The Rhetoric of L'Oreal Société Anonyme Annual Report. Skripsi thesis, UIN Ar-Raniry Banda Aceh.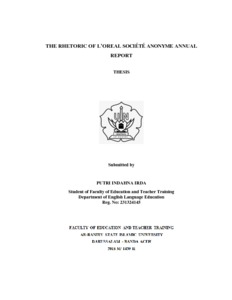 Preview
Text (Mengenai tentang Ilmu Bahasa)




PUTRI INDAHNA IRDA.pdf

- Published Version
Available under License Creative Commons Attribution.
Download (1MB) | Preview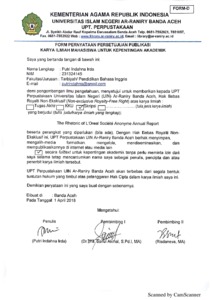 Preview
Text




From B dan From D.pdf


Download (729kB) | Preview
Abstract
This study is entitled "The Rhetoric of L'Oreal Société Anonyme Annual Report". The study is designed to analyze the rhetoric of financial report in L'Oreal Société Anonyme, especially annual report of L'Oreal SA in 2015, in order to find out the persuasive act of the report. The analysis is based on Aristotle's rhetoric proofs: logos (logic), pathos (emotion) and ethos (credibility). Beside the rhetoric, this study also carried out deixis analysis based on Verdonk's deixis (place, time and person deixis) which is aimed to identify how the report maker constructed the contextual situation of the report in order to make it more understandable. The findings of this study suggest that logos (70.6%) is the most dominant proof used in the report which identify the logical persuasion mostly by revealing the facts, statistics and any other objective details. Then, the second and the least frequently used rhetorical proofs are ethos (23.4%) and pathos (6%) respectively. In terms of deixis analysis, person deixis is the most frequently used deixis (55.7%), which is followed by time (29.5%) and place (14.9%) deixis.
Actions (login required)