Raudhatul Jannah, 140203085 (2019) Teachers' Perception on the Use of English Textbook in Teaching English (A Descriptive Study of EFL Teachers at MAN 3 Kota Banda Aceh). Skripsi thesis, Universitas Islam Negeri Ar-Raniry.

Text




RAUDHATUL JANNAH (140203085) SKRIPSI FULL.pdf


Available under License Creative Commons Attribution.
Download (1MB)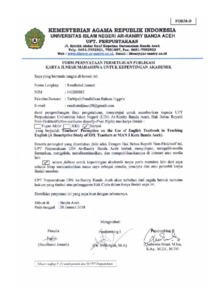 Preview
Text




FORM B & D.pdf


Download (161kB) | Preview
Abstract
In teaching learning English, the textbook is an important component that should be available in the school. The textbook is the book of a certain subject matter contained the learning materials which take a big role in teaching learning process. The textbook is the knowledge sources which is useful for the teachers and the students. The teachers used the textbook as the teaching advices in planning the students' activities in the classroom. Meanwhile, the students used the textbook as the learning media in obtaining the update information of the subject lesson. Regarding the textbook issue, the writer conducted the study of the textbook used based on the teachers' perspectives at Islamic senior high school, MAN 3 Kota Banda Aceh. The aims of this research are to investigate the teachers' opinion of the textbook application and find out the teachers' obstacles in selecting and adapting the English textbook in EFL classroom. This research implemented qualitative descriptive approach in gaining the data, by using interview and observation. The data was analyzed descriptively. The respondent of this research was three English teachers who taught in each grade of the students' level. The results showed that the teachers perceived the textbook positively. The textbook was suitable to the students' needs, syllabus and curriculum. In choosing the appropriate textbook, the teachers' problem was regulating the textbook content to the curriculum and students' environment. In applying the textbook, the problems faced by the teachers were the students' ability in learning English, textbook inadequacy, and the students' educational background.
Keywords: Textbook used, teachers' perception.
Actions (login required)