Jannaty Mismara, 140203199 (2019) Students' Perception On Using Social Media For Learning English. ["eprint_fieldopt_thesis_type_skripsi" not defined] thesis, UIN Ar-Raniry Banda Aceh.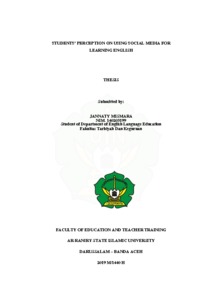 Preview
Text (Students' Perception On Using Social Media For Learning English)




jannati.pdf

- Published Version
Available under License Creative Commons Attribution.
Download (5MB) | Preview
Abstract
Today, internet is the most important source of information and the growing dimensions of the use of social media by students. It has been observed that students devote more attention and time on social media. This online information sharing promotes the development of communication skills among students. Current research shows that social media had effected academic performance in improving students vocabulary of the students. The current study is carried out with one research question as the focus, which is to find out student perception on using social media for learning English. The data gathered through interview and observation. In so doing, the participants taking part in this study are five students of Unit 1 batch of 2018 in Faculty of Ushuluddin and Philosophy at UIN Ar-Raniry Banda Aceh. The results are shown by interview, it can be seen that most of students give positive response about using social media for learning English. Most of students get the benefit after learning English on using social media because they think that social media improve their vocabulary and easy to understand. Furthermore, students motivation towards English language learning improved via Telegram. Accordingly, the researcher concludes that social media facilitate, motivate, and helpful for students in improving their vocabulary. In the findings of the study, it is recommended that English instructors should plan learning classes using social media as a learning platform.
Actions (login required)